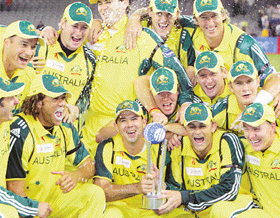 An enduring image of the last-minute Australian victory over India in the second Test was the wild celebrations by the triumphant cricketers. While excited to embrace and cavort with their 'mates', none of the Aussies sought a sportsmanlike handshake with the Indian batsmen who had contributed to the exciting finish. This has caused outrage in not only in the sub-continent, but Australia as well. It highlights the paradox in the value of mateship, which brings together white men in a bond of camaraderie, though casts a shadow over those who are considered foreign. It includes by excluding.
It's the same kind of mistake that occurs in the Australian colony in Paraguay. Though built on the ideal of a fellowship of man, it cast the darker man as an enemy.
The assumption that Anglo-Saxons were inherently superior to Hispano-Indians was as much a part of the colony's creed as teetotalism, a principle which had also been made explicit in the New Australia articles of association, but was now an unwritten law. The racial attitudes the colonists had brought with them from Australia were revealed by some of the facetious advertisements in Evening Notes: 'Boycott the Chinkie and save yourselves from the Yellow Agony by buying your vegetables from white gardener -- John Wilson'; 'Baxter's shoes - Nigger tickler clogs.'… this was not gracious, for on the whole Cosme fared well in its deadlings with the Government of Paraguay.
Gavin Souter A Peculiar People: The Australians In Paraguay Sydney: Sydney University Press, 1968
But this is clearly not representative of all Australians. Counter-balancing this xenophobic mateship is a 'fair go' egalitarianism that assumes all are equal. Let's hope this value is encouraged by the conflict between Australia and India, rather than deepening trenches.